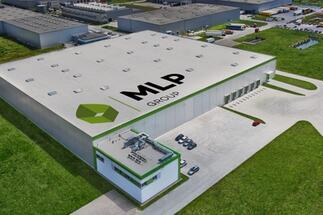 Under the contract, Radialwill receive more than 9,000 m2ofmodern space within the MLP PruszkówII logistics park, of which approximately 8,100 m2 will be used as a warehousing area and 1,000 m2–as office and staff amenity areas. The facility, finished to the tenant's requirements, will be handed over at the beginning of Q3 2020.
Radial, Inc., a bpost group company, is the leader in omnichannel commerce technology and operations. Premier brands around the world confidently partner with Radial to deliver their brand promises, anticipate and respond to industry disruption, and compete in a rapidly evolving market. Radial's innovative solutions connect retailers and customers through advanced omnichannel technologies; intelligent payments and fraud protection; efficient fulfillment, supply chain services; and insightful customer care services –especially where high-value customer experiences are critical.
Having outgrown our current Polish fulfilment centre, we needed a site that would not only meet our needs for today, but also offer us the ability to quickly expand with our growing business. The location, close to Warsaw, allows us to reach customers in the Polish and surrounding markets quickly and cost-effectively. Allowing us to offer Polish retailers and brands a highly modern, scalable, A++ rated site from which to base their ecommerce fulfilment activities,", said Tomasz Okowiakat Radial."MLP PruszkówII is hugely popular with both our current and prospective clients. Its attractive location and excellent transport links for cars, rail and air are the main reasons why they choose to conduct their operations from our logistics centre,"said TomaszPietrzak, Senior Leasing Manager at MLP Group S.A.
Radial was looking for a single location that would allow it to smoothly manage its local and countrywide supply chains, while pursuing further expansion opportunities.Thanks to the flexible approach and quality offering of the property developer, Radialdecided to become a tenant at MLP Pruszków II."added Karol Osiecki, Associate Director & Development at AXIIMMO.
Comprehensive legal support in negotiating and finalising the lease was provided to Radialby a dedicated team of Deloitte Legal lawyers: Michał Cwajna (Managing Associate) and Maciej Liberacki (Senior Associate), under the supervision of Zbigniew Korba (Partner Deloitte Legal).
MLP Pruszków II is a logistics centre located in the municipality of Brwinów near Warsaw, five kilometres from Pruszków.It is being builton a 72-hectare plot intended for warehousing and light manufacturing. With a target leasable space of about 292,000 m2, it will be the region's largest logistics complex. MLP PruszkówII has well-developed transport links with central Warsaw as well as the main arteries connecting the capital with other cities. The park is located between local road No. 760 and the A2 motorway, three kilometres from the junction in the Pruszków-Żbików area. The international railway lines located in the hub's vicinity make for excellent logistics conditions both for domestic and international distribution.
Source: MLP Group