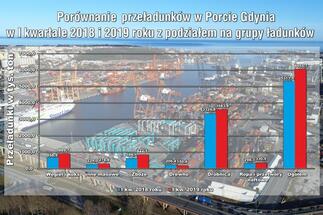 The year 2018 brough a record in the history of the Port of Gdynia - 23.5 million tonnes were handled, in total. During the first quarter of 2019 a very good bull market existed - over 14 percent of goods were transhipped, compared to the first quarter of 2018. The dynamics of cargo growth from January to March this year, made the Port of Gdynia currently the leader among Polish ports of the Baltic Sea region.

- Our very good transhipment results stem mainly from the fact that Port Gdynia is a good brand, known for its high quality and transshipment productivity - stresses Adam Meller, President of the Port of Gdynia S.A. - The excellent results of the Port of Gdynia are the effect of our effectiveness when it comes to both port operations and entering new markets. We constantly discuss the changes in the markets and their needs with our business partners. The achieved results allow us to advance our business strategy and plan further investments.

- I am very pleased with the excellent transhipment results of the Port of Gdynia, which directly translate into excellent financial results in the form of inflows to the state budget - adds prof. dr hab. Hanna Klimek from the Institute of Maritime Transport and Trade at the University of Gdansk. - The high number of transshipments and the large variety of cargo arriving at the Port of Gdynia are the best guarantee for further expansion of the port. It is also a vivid reflection of the good condition of the Polish economy.



Source: Port of Gdynia Authority S.A.