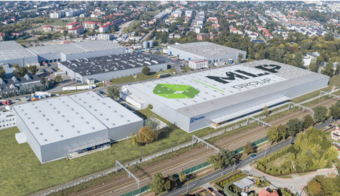 Electrolux Poland Sp. z o.o. has just signed a contract to extend the lease of space at the MLP Pruszków I logistics centre. Under the contract, the Group will receive approximately 23.5 thousand sq. m of modern space, of which approximately 23.1 thousand sq. m is intended for warehousing purposes, and the rest is office and staff amenity area. The company has been cooperating with MLP Group since 2013 and currently operates from two MLP Group parks: MLP Pruszków I and MLP Wrocław, using in aggregate almost 44 thousand sq. m of modern warehouse space.
Electrolux is the world's leading manufacturer of appliances for home and professional uses. It develops innovative and thoughtfully designed equipment and appliances with easy operation, focusing on the needs of consumers and professionals. The Electrolux Group includes such brands as: Electrolux, Zanussi, AEG, and Electrolux Grand Cuisine.
We've been involved with Electrolux for over eight years. I am very pleased with the continued cooperation between our companies and the extension of the lease contract for another few years. This confirms the attractiveness of MLP Group's offer. We always seek to meet the needs of our tenants by flexibly adapting the size of the leased space to their current needs. Also, the attractive location of MLP Pruszków I is certainly a great advantage in the facility selection process – said Tomasz Pietrzak, Senior Leasing Manager at MLP Group S.A.
The MLP Pruszków I project, MLP Group's first park, offers a total of almost 170 thousand sq. m of modern warehouse and production space. During more than a decade of its operation, it has actually become a small town with its own internal infrastructure. The park is located on a fenced area with 24/7 security. A two-station charging point for electric and hybrid vehicles has been set up there for customers' and tenants' convenience. All the energy needed for that purpose comes from photovoltaic panels. There is also a city bike rental station in the park. The park has a fairly large power supply, a proportionally high percentage of parking spaces, and offers customers great potential for future development. The MLP Pruszków I logistics centre has well-developed transport links with central Warsaw as well as the main arteries connecting the capital with other cities.