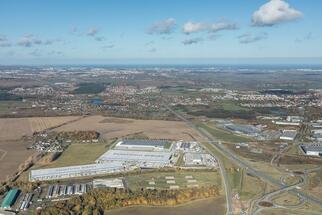 Panattoni enhances the volume of facilities in the Baltic region. This March, the developer is launching the construction of another park in the Tricity region. Panattoni Park Tricity South II, with planned warehouse and manufacturing space of 70,000 sqm in two buildings, will be delivered in several stages. The first 25,000 sqm will be commissioned in the coming August, and over 3,500 sqm has already been spoken for and will be used for light manufacturing, packaging and storage purposes.
Panattoni Park Tricity South II is the region's window on the world. The distribution centre will be situated near Pruszcz Gdański – in Będzieszyn, in the vicinity of the Rusocin Junction on the A1 motorway, close to major national roads (S6 and S7). As a result, the park's tenants will have access to the Tricity Bypass and will gain precious time on the way to the Czech border. Moreover, via the southern section of the Tricity Bypass, it is easy to get from Pruszcz Gdański to the east of the country. The location also has access to the railway network, with connections to Gdańsk, Warsaw, Bratislava and Vienna. Another natural advantage of the location is the proximity of the Port of Gdańsk, which the tenants will be able to use indirectly. It handles goods coming in from around the world – including China, USA, Singapore, and numerous European countries.
A green light for green solutions. Panattoni Park Tricity South II, like all parks developed by the developer as of 2020, will be certified under BREEAM New Construction International standard with a VERY GOOD rating. To this end, the complex will feature building automation BMS, managing the automated control systems in the facilities (electric power, lighting, ventilation, LED heating), as well as systems minimising water consumption and automatic number-plate recognition. Moreover, Panattoni will undertake Land Stewardship measures, preserving as much of the biologically active area as possible (e.g. the existing greenery) in the course of development. Beehives and bird houses will be installed, not to mention bicycle shelters and car sharing facilities.
Source: Panattoni