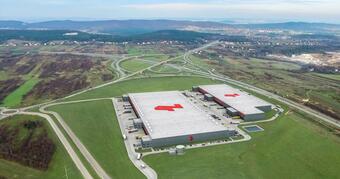 Kielce South junction. It will consist of two warehouse buildings totaling of over 60 000 sqm., first one – 23 000 sqm, will be completed in June this year. The second building, currently under construction is planned to be completed in Q4 2019, will be leased by myBOX Logistics – a company of Marketing Investment Group (MIG). MIG is the owner of a network of nearly 400 stores run under the well-known brands Sizeer, 50style, Symbiosis, Timberland, Umbro and e-commerce stores of these brands in the CEE region. The company is also a wholesale distributor on the Polish market of the following brands: Timberland, New Era, Lotto, Umbro and the Lacoste footwear line. From the new facility in Kielce, the company will provide logistics services for the retail sales network, including dynamically developing e-commerce channels.
- I am very pleased that another company selling its products online has appreciated our expertise and knowledge in delivering appropriate facilities. We are fully aware of how dynamic e-commerce is and how frequently the needs of our customers may change. We do our best to adjust to those requirements by rearranging the space or enabling expansion in future. I am convinced this is a start of a long and fruitfull cooperation between our companies – says Maciej Krawiecki, Leasing Director 7R SA.
Thanks to buoyant economic zones, technology parks and business incubators, Kielce is a very attractive location, ideal for companies focusing on e-commerce. Also, the developing roads' network makes Kielce play an increasing part in Polish logistics. There is sufficient availability of qualified employees in the region which makes it perfect location for e-commerce.
- All this is confirmed by Marketing Investment Group's decision. This was the first transaction in the region where the customer has not yet operated in this location and chose it ahead of two others. The sufficient availability of qualified employees and convenient communication infrastructure with the rest of the country determined MIG's decision - says Bartłomiej Krawiecki, Board Member 7R SA.
The warehouse will be built to suit the specific needs of the tenant featuring clear hight increased to 12 m, increased floor load and multi–level mezzanine.
- We appreciate 7R's flexibility and consideration of our needs. Our network grows fast, including the online sale. We needed a location close to our customers and enable fast delivery of the orders. 7R Park Kielce fits all these requirements – says Krzysztof Nitsch, Board Member Marketing Investment Group.
Source: 7R Logistics