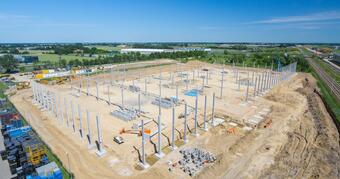 7R Park Poznań East is an A class warehouse facility totalling of 22 200 sqm located directly at 92 national road, east from the centre of Poznań in central-west Poland. This location enables easy access to S5 route and A2 motorway (Poznań East ring road) as well as Poznań. The park is within the range of public transportation with stops close from it. And the international Airport Poznań Ławica is located only 22 km away from 7R Park Poznań East.

- Poznań is the next step in 7R's expansion in Poland. Our success in other regional cities such as Gdańsk, Szczecin or Wrocław helped us taking the decision of entering the central – west part of the country. Warehouses in Greater Poland are currently in great demand not only from local tenants but also from companies from abroad, mainly Western Europe. Very convenient roads infrastructure, strategic location and dynamic economic environment make this region one of the most attractive warehouse market in Poland. 7R presence here was unquestionable. Our partnership with Liebrecht & wooD experienced in Poznań's market will, no doubt, help the project to succeed. – comments Bartłomiej Krawiecki, 7R SA Board Member.

- We are very pleased with the cooperation with 7R and are convinced it will be a fruitfull one for both parties. Our understanding of the region and knowledge in real estate combined with 7R's long term experience and professional approach guarantees a success to 7R Park Poznań East – adds Magdalena Bartkiewicz-Podoba, General Director of Liebrecht & wooD in Poland.

There is a significant demand for leasing space at 7R Park Poznań East. EXPOSERVICE POLSKA Group signed a lease agreement for 4 000 sqm of warehouse and light production space and Rhenus leased 2 500 sqm.
- First agreements signed even before the start of the construction works of our new project confirm a big demand for warehouse and light production space around Poznań. They also prove the trust those companies have in 7R locating their businesses at 7R's A class facilities in the whole of Poland. 7R Park Poznań East offers modules starting from 3 000 sqm. – says Maciej Krawiecki, Leasing Director 7R SA.
Source: 7R Logistics