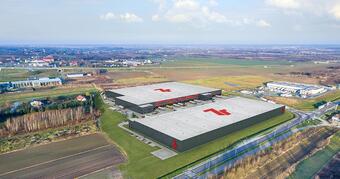 7R Park Rzeszów consists of two A-class buildings totalling of 56 000 sqm. It is located at the S19 and DK 94 expressways and will be a perfect location for distribution companies operating from South – East of Poland. This unique region is highly occupied by aviation companies, research and science centres, it is also an education and training base.
7R Park Rzeszów is dedicated to being part of the supply chain within the Aviation Valley. It is also dedicated to being the base for the companies within the Rzeszów's Special Economic Zones.
The first building will be completed in Q4 2019 and the general contractor appointed for construction is Bremer Sp. z o.o..
- We have a long term experience as a general contractor for warehouse space around the whole country. I still very much appreciate the trust 7R has expressed in appointing us for the construction of their first project in Rzeszów. Following the developer's requirements, 7R Park Rzeszów will be delivered in accordance with BREEAM certification based on it's latest and ecological solutions. – says Piotr Miodek, Commercial Director, Bremer.
7R Park Rzeszów is located only 6 km away from the city centre, in close vicinity of Rzeszów central rail station and the international airport Rzeszów Jasionka with the longest runway in Poland.
- Rzeszów is known for it's highly developed transportation base and the availability of qualified employees which is important for companies planning their logistics operations here. We have chosen a unique location for our new park - 7R Park Rzeszów is closer to the city centre than any other park in the area. Easy access to road infrastructure and public transport makes it attractive for employees. The first lease agreement signed with one of the leading logistics companies and an interest expressed by other potential customers definitely confirm the attractiveness of smaller cities such as Rzeszów and the accuracy of our decisions in locating 7R's parks in such areas. – adds Bartłomiej Krawiecki, 7R SA Board Member.
Source: 7R Logistics