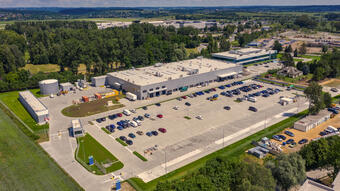 Over the last 10 years, the BWI Group has acquired a number of new projects, which have doubled the staff numbers in the company's Technical Centre in Kraków, and generated the need for more operational space. The modern and environmentally friendly facility, provided by 7R, totals over 11,000 sqm of laboratory and office space and is a location for nearly 400 engineers specialising in research, design and production processes for car suspensions.
The high-tech trigeneration system allows for the gas turbine to generate the energy needed to power, heat, cool and ventilate the building. When it comes to supplying media to the BWI Group's centre in Balice, only gas is required for the facility. It is used for the staff canteen and directed to the trigeneration unit where the gas turbine produces electricity. The heat generated by the engine and the hot exhaust gas is used in two ways: heating water for the facility and heating the building itself. Secondly, in the summer, when the heat produced is not fully utilized, the heated water is directed to an absorption unit where its energy is used to produce cold water.
"We are talking about the unique innovation of the trigeneration system in the BWI Group's facility because it was the first time that we applied it in a commercial office and laboratory building in Poland. So far, such solutions have been implemented in waste incineration plants and large industrial plants. In the facility, we have used high-sampling automation, with any excess power being fed back into the local power grid," says Bartłomiej Krawiecki, Member of the Board, Head of Development at 7R.
The BWI Group Technical Centre is not only self-sufficient in energy. The building also has its own well and manages water efficiently throughout the premises.
"We have built a water treatment plant from a well that was drilled. When it comes to rainwater it is distributed throughout the plot. There are five seepage wells under the retention tank with the soil absorbing the water. As part of the investment we have also prepared a green patio with direct access from the canteen", adds Piotr Miodek, Sales Director at Bremer, the generator contractor for the project.
Source: property-forum