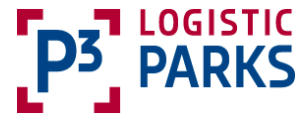 In recent months, P3 has completed the construction of 130,000 m2 of modern warehouse facilities on three parks; P3 Poznań, P3 Błonie and P3 Mszczonów. Almost all of the new space has already been let.
At P3 Błonie, two phases of Warehouse 16 - a total of 47,000 m2 - have been commissioned. Occupiers include Antalis, Green Factory Logistics and Quick Service Logistic Polska. According to market reports, this was one of the largest warehouse projects to be completed in Poland in H1 2017. In addition, the whole of the 32,500 m2 third phase of Warehouse 16 – which is currently under construction – has been taken by online retailer eMAG. In response to strong ongoing occupier demand, P3 is now planning to start on more new logistics buildings before the end of the year.
The company has also completed a 16,500 m2 facility at P3 Mszczonów park, most of which has been let to long-standing P3 customer FM Logistic.
P3 has also been busy at P3 Poznań since the beginning of the year and successfully added 63,000 m2 of space in three new buildings. Occupiers include British American Tobacco, Clipper, FM Logistic and Geis.
Andrzej Wroński, Country Head for P3 in Poland, said: "This is the most dynamic period in the history of P3 in Poland. We have never had so many construction projects on the go at the same time. At the start of the year, we said we planned to get the construction of new buildings under way on each of our four parks in Poland. We've already completed buildings on three parks and, in recent weeks, we have announced that we are to build a 61,000 m2 facility for Kuehne + Nagel at P3 Piotrków, so we have kept our word. Nevertheless, we have no intention of slowing down and the year end is likely to be as busy and the start."
The record number of construction projects in progress is linked to record occupancy levels across the company's Polish portfolio. Over the first eight months of the year alone, P3 let over 300,000 m2 of space, 58,000 m2 of which was lease renewals or extensions.
Piotr Bzowski, Leasing & Development Director for P3 in Poland, commented: "We've succeeded in leasing the same amount of warehouse space in the first 8 months of 2017 as we did in the whole of 2016. There are still a good few months ahead of us and we have a number of negotiations in hand, so I'm confident that we will end the year with a much better result than achieved last year. We believe that this is testament to our ongoing efforts to better meet the needs of our present and future customers."
ENDS
For further information, please contact:
Marta Białowąs, PR Manager, The Blue Ocean Investment Group
Tel. 882 184 441; e-mail: [email protected]
NOTES TO EDITORS
P3 is a specialist owner, developer and asset manager of European logistics properties. Active throughout Europe, P3's asset base comprises 185 high-quality warehouses totalling 3.9 million m2 across nine countries and a land bank for up to 1.8 million m2 of further development.
In Poland P3 has more than 716,000 m2 of warehouse space in standing assets or under construction and capacity to develop more than 800,000 m2 of Build-to-Suit buildings. P3 parks are located in Błonie (P3 Błonie) and Mszczonów (P3 Mszczonów) – both near Warsaw, as well as in the west of the country in Poznań (P3 Poznań) and in central Poland, close to Piotrków Trybunalski (P3 Piotrków).
P3 is a long-term investor, acquiring and developing high quality properties to add to its growing portfolio. It has never sold a building.
P3's mission is to provide warehouse customers with a first rate occupancy experience in high quality assets in key logistics locations. P3 develops environmentally sustainable warehouses that meet the highest international standards.
P3 is owned by GIC, Singapore's sovereign wealth fund.
You can find more information about P3 on our website www.p3parks.com or follow us on social media:
LinkedIn - P3 Logistic Parks
Twitter - @P3Parks
PointPark Properties adopted "P3" as its corporate brand in 2014 and uses the trading name P3 Logistic Parks to reflect the company's core business.