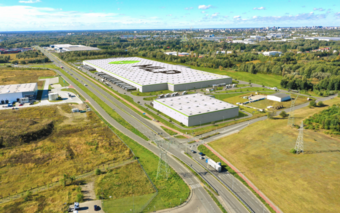 Uniq Logistic, a company with a long track record of delivering premium transport, freight forwarding and logistics solutions to its clients, has signed another lease with MLP Group. As of the second quarter of 2021, the new tenant will occupy approximately 11,500 sqm of space, including 300 sqm designated as staff amenities and office facilities, in the state-of-the-art logistics park MLP Łódź, to be built in line with the latest trends on the warehouse property market. The project will meet the requirements for BREEAM certification – it will have modern unloading docks and broad parking and turning areas, and glazing in the office section will help increase access to daylight and improve working conditions for users.
'We are glad to have closed another lease so quickly. The extension of our business relationship demonstrates our collaboration has been running smoothly and MLP Group's offer has met all of our client's expectations. The location of our new logistics park, central Poland is among the country's most promising regions, and I strongly believe it will attract strong interest from potential clients. Future tenants, and their employees in particular, will be provided with excellent access to public transport,' said Tomasz Pietrzak, Leasing Manager at MLP Group S.A.
'Businesses are increasingly looking for and outsourcing logistics processes to specialised external operators. Striving to meet client needs and expectations by offering top-quality state-of-the-art logistics solutions, Uniq Logistic, in addition to simple receipt, storage and dispatch operations, provides a complete range of services related to packaging, reverse logistics and quality control of goods imported from the Far East and other parts of the world. Warehousing space in prestigious facilities and convenient locations will make our offer extremely attractive,' noted Jarosław Płusa, Uniq Logistic CEO.
MLP Łódź is a modern logistics and distribution centre located in the Widzew district in the south-eastern part of Łódź, only 4 km from the A1 motorway, connecting Łódź with the Tricity, and about 20 km (a ten-minute drive) from the A2 motorway (Berlin-Poznań-Warsaw). The project is sited on a land plot spanning approximately 16.5 ha and will ultimately deliver 71,000 sqm of new space. The new centre will be built in keeping with the principles of sustainable development, and the Company's storage facilities will be designed to comply with BREEAM certification requirements. The MLP Łódź logistics complex will focus primarily on tenants operating in the e-commerce, logistics, distribution and light industrial production sectors.