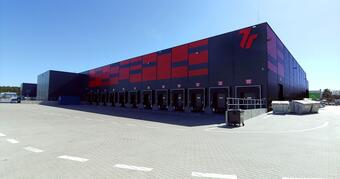 7R City Flex Szczecin is a modern ​​11,000 sqm class A building. In the Szczecin facility, the first premises were taken by Artisanal Tapas and a leader of the radio, television and household appliances market in Poland. Recently tenancy agreemend was signed by Grupa Kapitałowa Specjał (also present in 7R Park Krakow), Fakro and Agata Meble. Location of 7R City Flex Szczecin provides excellent communication with the city, as well as easy access to the A6 highway. However, the success and rental of buildings in such a short time was primarily due to the availability of qualified staff, close neighborhood of retail parks and the proximity of end customers, which is particularly important for e-commerce companies.
The construction of the second project under the 7R City Flex Last Mile Logistics program - 7R City Flex Gdańsk Airport is also underway in Pomerania. The facility with an area of ​​9,500 sqm, even before the completion of construction, can boast of a 100 per cent rental efficiency. The tenants include Bufab Poland and Odyssey Sp. z o. o., which also takes up space in 7R Park Gdańsk. 7R City Flex Gdańsk Airport will be put into service in the third quarter of 2019.
- The interest among potential tenants in the areas offered by 7R is very large. This is primarily due to our flexible approach to individual customer needs as well as the high quality of the buildings we supply. An expression of confidence for us is the fact that companies such as Grupa Kapitałowa Specjał or Odyssey develop together with us and are happy to be located in our other facilities across the country - says Maciej Krawiecki, Leasing Director at 7R SA.
- 7R as one of the first warehouse developers, saw the potential of the Pomeranian region more than 10 years ago. Since then, our portfolio of warehouses in Pomerania has grown significantly, and the warehouse market in the north of the country has grown considerably. The extensive road infrastructure, well-developed maritime and air transport as well as access to qualified staff translate into the tenants' great interest in warehouse space in Szczecin, the Tri-City and the surrounding area. 7R is planning further investments in Pomerania. One of them is the currently developed 7R Park Tczew - adds Ryszard Gretkowski, vice president of 7R SA.
Source: 7R Logistics