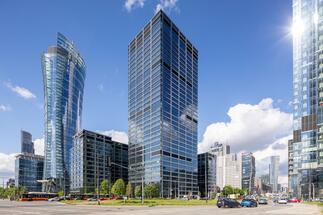 The transaction is the largest purchase in the office sector in this part of Europe in 2021. Generation Park Y is the third investment in Warsaw acquired by Hansainvest from Skanska and the second within the Generation Park complex.
Generation Park Y is a 38-storey building with a height of 140 meters, crowning the largest Skanska office project in Warsaw. The total leasable area of ​​the complex located at Rondo Daszyńskiego in Warsaw is approximately 88,000 sq m. sq m The leasable area of ​​the tower is 47.6 thousand. sq m 100 percent office space was leased by PZU for 10 years; the company will have its headquarters here.
Generation Park Y was designed and built in accordance with ESG principles, taking care of environmental and social aspects. The building received the following certificates: LEED Core & Shell Platinum and WELL Health-Safety Rating. The building is also applying for WELL Core & Shell and the Object without Barriers certificate.
Generation Park Y, the first Skanska skyscraper in Central and Eastern Europe, is the flagship project of our company not only in Poland, but also in the entire CEE region. The transaction and its scale only confirm that the entire Generation Park complex was built in accordance with the broadly understood ESG aspects. This is something that distinguishes our projects on the market - emphasizes Arkadiusz Rudzki, Vice President for Sales and Leasing at Skanska's office company in the CEE region.
Generation Park Y is 100 percent. powered by renewable sources. A quarter of the materials used for construction contain recycled components. In addition to sustainable solutions, the Generation Park Y project is distinguished by, among others, double-height sky-offices and a 15-meter green wall with over six thousand plants, located in the lobby.
Core assets in the office real estate market, meeting the ambitious criteria within the ESG area, are still sustainable, long-term investments. This applies in particular to new buildings that are being built in dynamically developing markets, such as in Warsaw or other comparable metropolises. That is why Generation Park Y fits perfectly into our strategy of investing in the real estate market. We look forward to further diversifying our real estate portfolio in Europe and the United States in 2022, comments Nicholas Brinckmann, CEO of Hansainvest Real Assets.
This transaction confirms that foreign capital flows to Central and Eastern Europe regardless of the pandemic, and investors find our region attractive - both thanks to A-class products and economic potential. In recent months, the demand for the so-called core assets within commercial real estate - says Adrian Karczewicz, transaction director at Skanska office company in the CEE region.