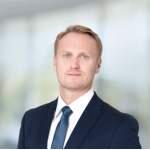 His key responsibilities include business development and client relations. Maciej will support the industrial team, advising tenants on leases and ways to optimise logistical operations. He has long-standing experience in transport, forwarding and logistics (TFL) and is a logistics expert with a strong track record in client service. Prior to joining Savills, he worked for TIP Trailer Services, a leading European trailer provider. His previous experience also includes time at international logistics providers DB Schenker and TNT Express. Maciej is a graduate of Warsaw School Economics. He also completed a postgraduate MBA programme.
"I am delighted that Maciej has joined us to strengthen our logistical capabilities. He has a deep understanding of our philosophy of delivering comprehensive advisory services to clients. We begin with an in-depth analysis to identify opportunities to improve warehousing and production processes and to optimise a supply chain, and only then can we go on to choose the most suitable warehouse location for the purpose," says Kamil Szymański, Head of Industrial Agency at Savills in Poland.
For more information on the Polish warehouse and industrial market and free access to our database of leasable logistics space, the latest market data and analyses from Savills experts, please visit warehousemarket.pl page.
Source: Savills