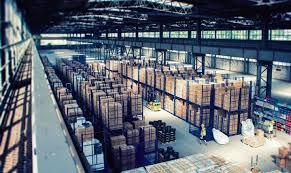 January-March 2019 also saw a high volume of new supply with 600,000 sqm delivered to the market, which represented an 8.1% increase on the quarterly average for the last two years. The largest completion was the project developed near Olsztyn for e-commerce giant Zalando (more than 120,000 sqm), which is confirmation of this sector being a key driver behind the demand for warehouse space.
Warehouse and industrial take-up hit nearly 1 million sqm (over 6% more than the quarterly average over the last three years) with the strongest leasing activity recorded in Warsaw, Central Poland and Lower Silesia. The largest transactions in Q1 2019 included 59 000 sqm leased by Pantos Logistics in Panattoni Park Wrocław IX and 58 500 sqm leased in P3 Mszczonów.
The vacancy rate edged above 5%. Although it remained below that level throughout 2018, it rose by 0.4 pp to 5.3% com­pared to Q4 2018. The highest warehouse vacancy rates are in the Białystok region (36.0%) which is one of the newest locations on the Polish industrial map with stock at 40 000 sqm and Poznań (8.4%).
"The growth outlook remains very positive for the market and opportunities more than offset potential external threats. The continued rise in construction costs witnessed over the last couple of years appears to be easing however developers are slightly more cautious regarding delivery dates for newly constructed schemes," says Tom Listowski, Partner, Head of Industrial & Warehouse, CEE, Cresa.
"Given the strong market dynamics, capital sources from around the global are targeting income producing warehouse and production properties in Poland. Prime yields currently stand at 6.5%, which may see further compression due to the high demand for investments in this asset class. We expect investor confidence to remain strong throughout 2019 and, as witnessed last year, see a considerable number of portfolio sales," says Bolesław Kołodziejczyk, PhD, Head of Research & Advisory, Cresa Poland.
Source: Cresa