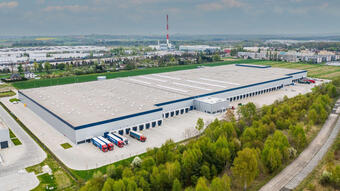 Regesta, which was established more than 28 years ago, offers integrated solutions for contract logistics, international and domestic road transportation, and maritime transportation. The business renewed its lease for warehouse and office space in Park Tychy DC1 for an additional five years in order to accommodate its expansion. Regesta has a combined real estate footprint of more than 100,000 square meters in Pomerania, among other places.
"Regesta continues to go from strength to strength, also in Silesia. The warehouse in Bieruń is very important for us due to its proximity to our key automotive clients based in Tychy and Gliwice. We are pleased with the successful outcome of the renegotiations with Whitestar and with our cooperation over the years", says Marcin Szostak, Logistics Director, Regesta.
"Regesta was driven to extend its lease not only by its own needs resulting from its growth plans but also by the fact that its current location makes for an easy commute. We are grateful for the trust it placed again in the team of Newmark Polska. We are delighted that we are able to assist our client in its expansion by ensuring it has optimum growth conditions," says Janusz Dudek, Senior Advisor, Newmark Polska.
"The lease renewal by Regesta S.A. has strengthened our business partnership. We are very pleased that our tenants choose to continue the growth of their business in our facility and value its strategic location, high quality and our day-to-day activities in our role as a property and leasing manager for the complex", says Urszula Rasmussen, Head of Industrial Leasing, White Star Real Estate.
In Upper Silesia, Park Tychy DC1 is a distribution center (class A warehouse) with access to the main regional transportation lanes. For RCSN and White Star Real Estate, the industrial park is managed by Czech real estate investment manager REICO investin spolenost eské spoitelny, a.s.