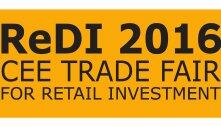 PROGRAM OUTLINE
MAY 31, 2016 17.00"Retailers' Garden Cocktail & Networking"
Venue: Endorfina Foksal, Foksal 2, Warsaw

Cushman & Wakefield invites retailers attending ReDI for drinks & barbecue.
Please confirm your attendance by filling out the registration form - CLICK HEREJUNE 1, 2016

09.00Opening of day 110.00 - 10.30
ReDI CEE Trade Fair Opening Ceremony
10.30 - 10.50
ReDI To Talk Opening Speech
"The EU is the framework for all great political projects going forward and real estate is at the core" - Michael McBrien, Director General, European Property Federation
10.50 - 11.30 ReDI for Europe - Political and legal conditions for real estate development
- example of Polish Law Restricting the Sale of Agricultural Land
- european review on retail tax legislation
- key obstacles to the smooth functioning of the EU retail sector
Content Partner: European Property Federation
PANELISTS:
1) Michael MacBrien, Director General, European Property Federation
2) Patrick Delcol, PRCH President, ICSC European Advisory Board Member, Head of CEE in BNP Paribas Real Estate
3) Christopher Grzesik, Chairman The European Group of Valuers' Associations (TEGOVA), Vice-President Polish Federation of Valuers' Associations, CEO Polish Properties
4) Piotr Szafarz, PRCH Member of the Board, Partner, Dentons Europe
5) Alister Meek, Operations Director, FASHION HOUSE Group
MODERATOR:
Radosław Knap, General Director PRCH
11.45 - 12.45 ReDI for Dialogue - Lease agreements in the spotlight

- elements of lease agreements affecting relations between:
- owner and tenant
- owner and manager,
- manager and tenant
- best practices
- disputed elements

Content Partner: Drzewiecki, Tomaszek i Wspólnicy
PANELISTS:
1) Justyna Głowacka, Asset Manager, Peakside Capital
2) Michał Urbanek- Development Manager, Matras Bookshop
3) Aleksandra Podsiadła- Development& Investment Manager, Quiosque
4) Anna Stolarczyk- Expansion Manager, Tchibo
5) Tomasz Górski, Retail Asset Manager, Rockcastle Poland
6) Piotr Kubis, Senior Leasing Manager, ECE Projektmanagement Polska
MODERATOR:
Marcin Juszczyk, Partner, Drzewiecki, Tomaszek i Wspólnicy
13.00 - 13.45 Report presentation "Child-friendly shopping centres"

- how customers' expectations (i.e. families with children) affect the trade
- facilities and functionality of shopping centres for families with children
- the offer of shops targeting families
- shopping centres from the parents' perspective

Report Authors: Polish Council of Shopping Centres & Colliers International Poland Sp. z o.o.

Consumer Survey Partner: IQS Sp. z o.o.
PRESENTATION BY:
1) Radosław Knap, General Director PRCH
2) Katarzyna Michnikowska, Senior Analyst, Research and Consultancy Services, Colliers International
3) Agnieszka Kowalewska, Research Manager IQS
15.30 - 16.30"20 years of Apsys Polska" Cocktail

Apsys Polska invites ReDI attendees to an afternoon cocktail organized in the Meeting Point area.



18.00Closing of day 120.30 - 01.00ReDI After Party - Club Opera, Pl. Teatralny 1, Warsaw

More info HERE

After Party Sponsor: Galeria Północna, Galeria Wilanów


JUNE 2, 2016

09.00Opening of day 210.30 - 11.30 ReDI for People - Labour market in the retail industry

- retail industry labour market overview
- a professional's perspective on the retail industry labour market
- new talents – Polish education toward retail industry requirements
- estimation of the consequences of introducing tax changes as well as limiting trade on Sundays on the labour market

Content Partner: HRK S.A.




PANELISTS:
1) Katarzyna Królak, HR Manager CEE, Multi Poland
2) Małgorzata Nowotna, HR Manager, Neinver
3) Dorota Skowrońska, HR Direcotr Cushman&Wakefield
4) Joanna Kozarzewska, Business Unit Manager Real Estate & Construction, HRK S.A.
5) Joanna Plaisant, Country Manager RICS in Poland
MODERATOR:
Krzysztof Kogut, Chief Editor, Real Estate Manager
11.45 - 12.30
ReDI for Retailers - Retail brands and concepts in the market

- brand movements around the world
- most recent branding strategies
- new retail brands and concepts in the market

Content Partner: CBRE Sp. z o.o.


PANELISTS:
1) Małgorzata Gabryś, Director Expansion & Investment, 4F
2) Maja Gawrońska, Managing Director Eastern Europe, Tally Weijl
3) Katarzyna Dąbrowska, Expansion & Investment Director, Douglas
4) Agata Czarnecka, Associate Director at the Research & Consultancy Team at CBRE
MODERATOR:
Magdalena Frątczak, Senior Director - Retail, CBRE
13.00 - 13.45
Report presentation A Tale of Four Cities, High Streets in the CEE Capitals 2nd Edition
- High Streets in the CEE Capitals, analysis, strategy, potential
- High Streets in Warsaw, Prague, Budapest and Bucharest: differences and similarities

Content Partner: BNP Paribas Real Estate Poland


PRESENTATION BY:
Anna Staniszewska, Director, Head of Research and Consultancy, BNP Paribas Real Estate Central and Eastern Europe
17.00
Closing of day 2