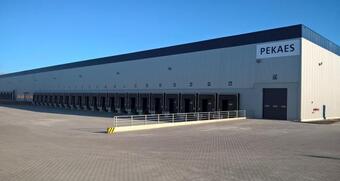 Dzięki temu Grupa Pekaes poszerza swą skalę możliwości operacyjnych w jednym z kluczowych dla gospodarki regionie kraju. Firma ma nadzieję, że duże możliwości przeładunkowe zapewnią szybką i płynną obsługę jeszcze większej liczby przesyłek krajowych i międzynarodowych.
– Zmiana lokalizacji oddziału na Śląsku i uruchomienie nowego terminala w Sosnowcu to element naszej strategii rozwoju sieci drobnicowej w całym kraju oraz impuls do zwiększenia naszej ekspansji na rynku śląskim. Chcemy być jeszcze bliżej naszych kluczowych klientów w regionie, zapewniając im serwis na najwyższym poziomie – mówi Jerzy Markow, Dyrektor Operacyjny, Pekaes SA.
Na nowy terminal cross-dockowy składają się powierznie magazynowe o wielkości ponad 4,5 tys. m² oraz część socjalno-biurowa.
Obecnie PEKAES SA posiada 18 oddziałów w kraju. W 2016 roku planowana jest dalsza intensywna rozbudowa sieci terminali drobnicowych.
Pekaes to  czołowa polska grupa logistyczna i największa spółka sektora TSL notowana od 2004 roku na GPW. Oferuje pełen pakiet usług logistyki magazynowej, transport drobnicowy oraz spedycję: krajową, międzynarodową, morską i lotniczą oraz logistykę towarów masowych i usług intermodalnych. Wszystko to dzięki jednej z najefektywniejszych sieci krajowych terminali dystrybucyjnych, sieci kolejowych terminali przeładunkowych w Polsce a także sieci kilkunastu partnerów zagranicznych we wszystkich kluczowych krajach Europy. W 18 polskich oddziałach, 4 terminalach kolejowych, 2 agencjach kontenerowych oraz 8 magazynach logistycznych firma zatrudnia około 1000 pracowników.