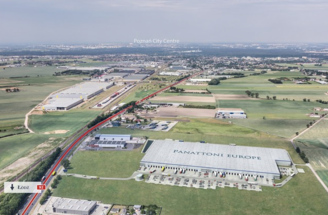 The potential of Wielkopolska. Poznań is one of the five most attractive areas for logistics and distribution in Poland and Panattoni has a vast amount of warehouse space with around 940,000 sqm of space already constructed. This includes both BTS developments for companies such as Amazon and Raben as well as multi-tenant warehouse and production parks. To date, all of Panatonni's developments have been situated to the west and the south of the administrative capital of the Wielkopolska region, near the A2 motorway and the city's bypass.
Panattoni Park Poznań East Gate will be the developer's first project directly east of Poznań. However, it will still have a very good connection with the S5 expressway and also with the A2 motorway. "With Poznań's strategic location halfway between Berlin and Warsaw and its convenient roads, a host of possibilities are available for distribution services both in Poland and abroad. Furthermore, there is the economic potential of the region, because Wielkopolska has always been one of the most economically developed areas in the country. On top of this is also a large pool of highly skilled labour, since there are several thousand people studying in a city with a population of 650,000" is how Katarzyna Kujawiak of Panattoni explains the high levels of interest shown by potential tenants including those from abroad in warehouse space in the Poznań region.
Panattoni Park Poznań East Gate will comprise one warehouse building of 45,100 sqm. Tenants from different industries will have flexible modules at their disposal that will be suitable both for warehousing and production purposes. The complex is to be BREEAM certified with a rating of 'Very Good', which means that it will meet the highest environmental requirements and that it will be cheaper to operate. The building will be equipped with systems that limit the usage of energy water and because of improved insulation on the roofs and in the walls CO2 emissions will also be reduced. The grounds of the park will also include extended green areas with benches. Additionally, there will be stands and roofed areas for bicycles as well as electric vehicle charging stations.
The Park will be conveniently situated in the town of Paczków near national road No 92 which joins Rzepin on the German border with Poznań and Warsaw. The road runs through the regions of Lubuskie, Wielkopolska, Łódź and Mazowieckie, running in parallel with the A2 motorway. Road No 92 joins the S5 expressway (Wrocław – Poznań – Bydgoszcz – Ostróda) at the Kostrzyn junction, and as a result it leads onto the A2 motorway in Kleszczew. Moreover, the location of the park near Poznań, which is also near the campuses of numerous colleges of higher education, ensures the availability of highly skilled labour as well as excellent access.