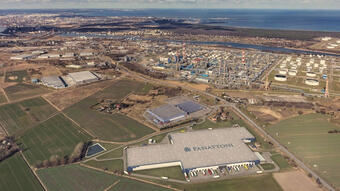 The Tricity ports have already made a major contribution to the boom in e-commerce and the warehouse market in Poland. In 2019, the Port of Gdynia handled 24 million tonnes of goods, while the Port of Gdańsk handled a record 52 million tonnes, one of the largest volumes of any Baltic port. Thanks to this, the economy and the warehouse market have been going from strength-to-strength in Pomerania, which, as the sixth-largest warehousing region in the country, could soon exceed 1 million sqm of modern warehouse space.
"The Tricity is gradually becoming the leader of all the markets outside the 'Big Five'. Our first park in Gdańsk had 46,000 sqm of space. This year, the volume of Panattoni's space in this region will grow to 500,000 sqm. The economic growth of Pomerania – and of the entire country – is being accelerated thanks to the expansion of the Tricity ports and the improvements to the road and rail infrastructure along the Baltic–Adriatic transport corridor. All this, as well as the planned central port in the Bay of Gdańsk, means that the Tricity ports are set to break new transhipment records over the next few years, which will be followed by a growing demand for warehouse space," says Martyna Sochaczewska, a Senior Leasing Manager of Panattoni.
Globalway (part of the Costway group) is one of the largest suppliers of products from the Far East and China, operating in more than 150 countries. Its strategic partners include the likes of Walmart, Amazon, eBay, Wish and Home Depot. When the company started its activities in Poland, its first partner was Panattoni, from which the company leased 3,500 sqm in the developer's first Gdańsk project – Panattoni Park Gdańsk I. Over time, it has gradually expanded its premises and has now decided to lease 52,000 sqm at Panattoni Park Tricity East IV. This was originally to be a three-building complex, but now the plans have been modified so that just one facility is to be built – exclusively for Globalway.
The development of this latest distribution centre, which will serve both Poland and Europe, has been made possible thanks to the close cooperation between Panattoni and the Polish Investment and Trade Agency (PAIH). By joining forces, a wide range of investment incentives have been made available for Globalway in the form of tax breaks and government support for setting up operations. The project has been granted Polish Investment Zone status, based on a decision supporting this by the Pomeranian Special Economic Zone Sp z o.o.
Construction work on the warehouse and distribution centre for Globalway will start in the third quarter of the year. The facility is to be BREEAM certified at the 'Very Good' level. In line with the latest standards implemented by Panattoni, the warehouse will be given glass and aluminium façades in the office section, a new colour scheme and additional greenery.
Source: property-forum