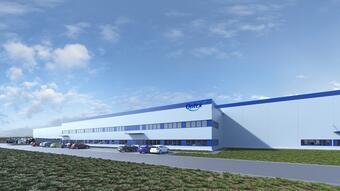 After the automotive sector, heavy industry, energy and construction businesses, the time has come for the cosmetics and hygiene industry. The developer is to build another production facility, this time for Ontex ─ a Belgian maker of personal hygiene products. The project will be delivered on an approx. 11-hectare site in Radomsko, within the Łódź Special Economic Zone (ŁSSE). The factory featuring more than 26,000 sqm has been divided into functional zones – the industrial zone with an approx. 7,500-square-metre production hall, two warehouses intended for storing components (with more than 5,500 sqm) and finished products (more than 9,000 sqm), staff and office facilities, which will take up in excess of 2,000 sqm, as well as technical rooms. The investment is scheduled to launch in early December, and to end in July 2018. The lease has been signed for 15 years, and the transaction was mediated by JLL.
The production facility for Ontex developed by Panattoni Europe will be the first factory in Poland for this producer of personal hygiene products. To date, the company has been delivering to Poland from the Czech Republic. "Ontex's strategy and predicted business growth in Central Europe have made it necessary to expand the production capacity of our enterprise in this part of the continent" comments Charlez Bouaziz, CEO Ontex, adding: "the new factory in Radomsko will help us fulfil our growth ambitions, create new jobs in the region and ensure satisfaction for our continually growing client and customer base in Central and Eastern Europe". Initially, the company will employ 170 people and invest approx. EUR 40 million. The 11-hectare site will enable the occupier to extend the facility by some 50,000 sqm as needed and to employ up to 350 people.
The factory in Radomsko is another industrial facility delivered by Panattoni Europe in an economic zone, and the developer's third at the Łódź Special Economic Zone (ŁSSE). Marek Foryński, Managing Director of BTS Group at Panattoni Europe, comments: "In our development work, we not only close record-breaking transactions, but in the first place deliver top-quality products, meeting the needs of our clients' operations. It is no different in the case of the most recent investment for Ontex – the factory fully adapted to the client's technological processes will be built in a location which is strategic to them – near the European route E75, connecting Warsaw with Silesia and forming part of the A1 motorway".
"The excellent investment opportunities, provided by greenfield plots ideal for production projects, make Łódź Special Economic Zone very attractive for potential investors. They appreciate the zone's convenient location – at the intersection of five transportation routes from East to West and from North to South, as well as being in close proximity to the country's largest road and rail hub. Such a location allows for swift cooperation with subcontractors and the efficient distribution of goods, both in Poland and internationally", says Joanna Choromańska, Business Development BTS Manager, JLL.
Panattoni Europe is part of the Panattoni Development Company, one of the largest industrial developers in the world, with 26 offices in North America and Europe. Panattoni has been present in Central Europe since 2005. To date, the developer has delivered more than 5.7 million sqm of modern industrial space altogether in Poland. Among key tenants are companies such as Amazon, Arvato Services Polska, Coty Cosmetics, DSV, H&M, Intermarché, Leroy Merlin, ND Logistics, Still, Schenker, Selgros and Tesco. Apart from Poland, Panattoni Europe has offices in the United Kingdom, the Czech Republic, Luxembourg, Germany and now also Romania.