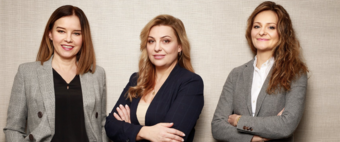 Kamila Pruk has over 13 years' experience in the real estate industry. For the past nine years, she has been working for Prologis, where as a Capital Deployment & Leasing Senior Manager she was responsible for a portfolio of nearly 500,000 sqm of warehouse and production space in the Warsaw region, central Poland and Gdańsk. Her duties included business relations and negotiating transactions regarding BTS projects and lease agreements within the managed portfolio. From January, she has taken on the role of Development Director for Warsaw and Central Poland at 7R. Kamila is now responsible for contacts with investors, leading and managing development projects and cooperation with the leasing department.
Today, more rapidly than ever, developers must adapt to the challenges posed by dynamic changes in supply chains. At 7R, we focus on continuous improvement of the space we deliver and on the strong competencies of our team. Therefore, due to the increase in the number of our investments, maintaining our high standard of implementation, and 7R's expansion into new markets, we have recruited three very well-experienced specialists. They all have extensive experience in the real estate industry and excellent knowledge of the regions in which they operate. We are strengthening 7R with independent professionals, who are competent and stand ready to develop our offer of logistic parks and last mile 7R City Flex warehouses and BTS projects,
says Bartłomiej Krawiecki, member of the board, Head of Development at 7R.
Robust leasing support
Two experienced specialists are also joining the leasing department at 7R. Magdalena Kostjan had worked for over seven years at Prologis, where she was Senior Manager in Capital Deployment & Leasing section. She managed a portfolio of nearly 600,000 sqm of warehouse and production space in Wrocław. She also built new business relationships and negotiated transactions for BTS projects and leases. At 7R from January 2021, as Leasing Director, she has been responsible for developing 7R's business in the west of the country from the A2 motorway, through Poznań, to the Bolesławiec area, Legnica and Wrocław.
Danuta Dzierżak has over 12 years' experience in the industrial real estate sector. For the last eight years, she worked for AXI IMMO, where she was advising on leasing warehouse and industrial space for the company's key clients. As a Leasing Manager at 7R since December 2020 she has been in charge of commercialization of space in logistics parks and city warehouses of 7R City Flex in Pomerania and Kujawsko-Pomorskie regions.
At 7R we signed contracts for over 320,000 sqm in the second half of 2020 and came in second in Poland in terms of gross leased space, with 100% of new leases. The demand for high-end warehouse facilities, which are equipped with modern technologies and environmentally friendly solutions that are so important for our customers, is not diminishing. We have unmatched experienced in providing specialist space for e-commerce and high bay warehouses. The great demand for warehouse projects puts our team in an even greater position to meet the challenges of the next years of the sector's growth and to implement 7R's development plans,
concludes Maciej Krawiecki, Head of Leasing at 7R.