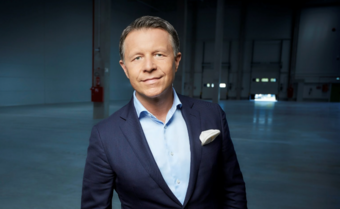 Last year, MLP Group was growing at a vigorous pace across all its markets. The Group's strategic goal remained to expand its business in Poland and Germany, while growing its foothold in Austria and Romania. Its city logistics facilities (i.e. small modules combining modern warehouse space with elegant office space fitted out to a high standard) and big-box facilities enjoyed ever greater popularity.
"Last year, our business was thriving despite the coronavirus crisis. It was driven by the delivery of projects launched before the pandemic's outbreak. The entire market was growing at a rate similar to that recorded the year before. Accordingly, we also posted a robust set of financial results, with our activities on the European market, especially in Germany, as an increasingly prominent contributor. Last year, we were also actively purchasing land for new projects. We thus expanded our project portfolio to cover the Austrian market, where we commenced the construction of a new logistics park in Vienna. New projects were also launched in Germany, and we were actively investing in Poland, undertaking greenfield projects in Wrocław, Łódź and the Poznań region, while making further progress on projects to extend our existing logistics parks," said Radosław T. Krochta, President of the Management Board of MLP Group S.A.
MLP Group remains on a sound financial footing. Last year, it increased its net asset value (NAV) by 29%, to PLN 1.21bn. The value of its investment property also rose 29%, to PLN 2.33bn. In 2020, the Group generated PLN 170.4m in net profit, up 32% on the previous year, on consolidated revenue of PLN 190.7m, representing a year-on-year increase of 36%. However, factoring in rental income, i.e. MLP Group's main revenue stream from its core business, the Group reported growth of 23.9% year on year.
In 2020, the aggregate area of MLP Group's projects under construction and in the pipeline was in excess of 241 thousand m2. As at the end of 2020, the Group's portfolio of finished projects comprised more than 715 thousand m2 of modern warehouse space. Including projects under construction and in the pipeline, the Group offered a total of nearly 860 thousand m2 of modern space. In addition, it held a land bank with a target development area of almost 1.29 million m2, and had in place a number of reservation agreements to purchase new land for planned logistics parks in Poland, (e.g. Stryków, Pruszków, Poznań), Germany (e.g. Gelsenkirchen, Cologne, Frankfurt am Main, Leipzig) and Austria.
Despite the pandemic, in 2020 Poland's warehouse space market performed incredibly well, having again proven its strength. According to market data, last year the overall supply of modern warehouse space in Poland reached 20.7 million m2, with a total of 2 million m2 of new warehouse space delivered to the market over that period. At the period's end, approximately 1.9 million m2 was still under construction.
"We are looking at the current year with a moderate degree of optimism. The warehouse space market is likely to grow at a single-digit rate, solid but far from spectacular. Everything will depend on the economic climate worldwide and how quickly the global economy bounces back to growth. We expect the warehouse space market will be driven mainly by the e-commerce sector, as well as demand generated by clients moving their production from Asia to Europe. Another significant factor set to stimulate demand for warehouse space is that tenants tend to accumulate stocks for fear of possible supply chain disruptions. We also focus on deploying green solutions at our logistics parks and investing in renewable energy sources. One of our priority objectives is to install solar PV panels on all our existing and newly constructed properties. We want MLP Group to achieve energy sustainability in terms of CO2 emissions by 2023," added Radosław T. Krochta.
In keeping with its build & hold strategy, MLP Group retains completed logistics parks in its portfolio and manages them independently. All projects undertaken by MLP Group are distinguished by very attractive locations of the logistics parks, application of built-to-suit solutions, and support given to tenants during the lease term.