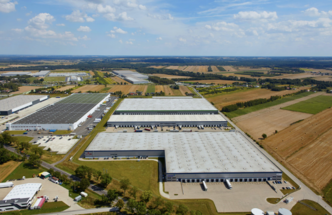 Media Expert is the largest electronics / household appliances network in Poland - it includes over 480 stores with electronic products in almost 390 cities throughout the country. The brand has been present on the market since 2002. Logicor Stryków will store small household appliances and consumer electronics.
- The Media Expert network is developing dynamically, and the consequence of this development is the need to provide effective logistics solutions. Meticulously selected warehouse and distribution centers allow us to optimize supply chains to our electromarkets and shorten the time of transporting purchases made online. The presence in Logicor Stryków is an important element of the implementation of our strategy - said Michał Mystkowski, media expert spokesman.
Logicor Stryków is a modern logistics center equipped with Singu SSD entry automation systems. It consists of 3 buildings with an area of ​​over 107,000 sq m. It is located in central Poland, just 5 km from the junction of the A1 and A2 motorways.
- We are pleased to welcome Media Expert to the Logicor Stryków logistics park, which due to its location in the heart of central Poland is a strategic location for logistics, retail and e-commerce companies - said Anna Mazepa, Senior Asset Manager, Logicor