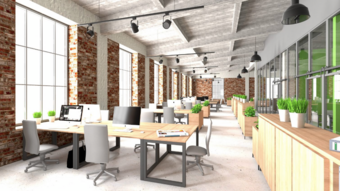 MLP Group's investment in Poznań is a response to growing demand for warehouse space situated in close proximity to large city centres. The new project is attractively located, providing easy access to public transport and road infrastructure, with bus, tramway and train services available within 1.5 km, and the A2 motorway just 2.5 km away. As an additional amenity, in the first quarter of this year, a city bike station will be launched by the developer on the park premises.
Currently, the park comprises class B warehouse and office facilities, with an aggregate leasable area of 30,000 sqm. In the fourth quarter of last year, the developer began renovating the first of the seven facilities consisting of six modules with a combined area of 12,000 sqm, which has already been leased by a distributor of household appliances and consumer electronics. The work is scheduled for completion in the fourth quarter of this year. Renovation work at the remaining six buildings, with an aggregate usable area of 18,000 sqm, is due to begin in 2021.
"We are delighted that our new business location has attracted the distributor of home appliances and electronics as its first tenant. For us this is the best recommendation, confirming that our project is an attractive opportunity to prospective tenants. The long-term lease secured for 40% of the currently available park space will afford us great comfort in planning further investments to enhance the standard of the existing buildings and renovate the infrastructure. According to MLP GROUP's strategy, the urban project in Poznań will be a 'hybrid' setting, offering tenants one BIG BOX facility with an area of 12,000 sqm, six buildings comprising warehouse space of the Small Business Unit type in modules ranging in size from 250 sqm to 1,500 sqm, adding up to a total of 12,000 sqm, and modern office space fitted out in an industrial style available in modules ranging in size from 100 sqm to 1,500 sqm, adding up to a total of 6,000 sqm," said Karol Kondrat, Leasing Manager at MLP Group S.A.