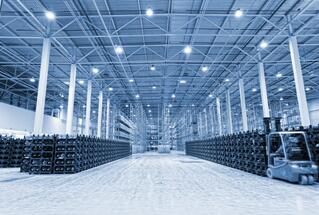 Poland's total warehouse and industrial stock reached 18.5 million sq m at the end of 2019. New supply set an all-time high of more than 2.7 million sq m delivered in the space of the last 12 months. 2019's largest completions included Amazon's 210,000 sq m BTS facility developed by Panattoni in Gliwice, the next buildings of Panattoni's Central European Logistics Hub (131,000 sq m), and Zalando's 120,500 sq m BTS project built by Hillwood in Olsztynek.
With 4.3 million sq m of warehouse stock, Warsaw remains the largest industrial market in Poland, according to Savills report. Of all the regional markets, Central Poland, on the other hand, reported the highest supply growth rate, with more than 600,000 sq m delivered last year. Upper Silesia and Wrocław also maintained a strong momentum.
Development activity shows no sign of abating. At the end of 2019, there was nearly 1.9 million sq m of warehouse space under construction – almost the same volume as one year earlier. The largest concentration of development activity was in Warsaw and Upper Silesia. There was a sharp increase in the share of speculative construction without pre-let agreements: from just 34% at the end of 2018 to 51% at year-end 2019.
In 2019, the Polish warehouse and industrial market posted the second highest take-up figure, with more than 4.1 million sq m transacted, up by approximately 2% on the previous year's level, reveals Savills data. Occupier activity focused on Warsaw and its suburbs, where take-up hit more than 1.3 million sq m. The largest transactions across Poland included 122,900 sq m leased by RTV Euro AGD in Prologis Park Janki, and 68,500 sq m leased by BBK in Panattoni Park Gdańsk Airport.
According to Savills analysis, e-commerce remains one of the key drivers of the logistics real estate market. Its actual share in demand for warehouse space is, however, hard to put a number on as this sector is, to a great extent, catered for by logistical operators and warehouse facilities often combine deliveries to brick-and-mortar stores and online order fulfilment.
E-commerce enjoys brisk expansion in Poland. Online retail currently accounts for 7.4% of total retail sales and is expected to see its share increase up to 10.1% by 2022. For the time being, Poland falls into the lower half of the European ranking, showing similarity to the UK as it was ten years ago. E-retailing still has a great growth potential in Poland and is one of the key drivers of demand for warehouse space. Amazon and Zalando, taken together, leased more 700,000 sq m in Poland in the last three years, says Kamil Szymański, Head of the Industrial Agency at Savills.
For the first time in history, unoccupied space surpassed the one million sq m mark at the end of 2019, amounting to 1.3 million sq m, up by 65% year-on-year. This pushed the overall vacancy rate up by 2.0 pp year-on-year to 7.1%, its highest since 2013.
Rents remained flat on most markets in 2019, says Savills. Across Poland, headline rents stood at EUR 2.70–4.40/sq m/month for big-box warehouses and at EUR 5.25/sq m/month for SBUs.
Despite fears associated mostly with macroeconomic factors such as the manufacturing slowdown in Germany or the US-China trade war, which is now over, the Polish warehouse and industrial market is in very good health. The fourth quarter of 2019 was particularly active. The vacancy rate is however rising and so is speculative construction. Looking ahead, the market's growth rate will depend on the strength of occupier demand, concludes Kamil Szymański, Savills.
Source: Savills