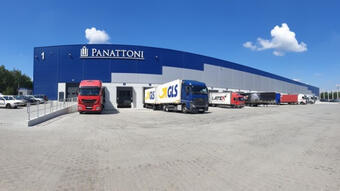 European Logistics Investment platform, owned by Madison International Realty, Redefine Properties and Griffin Real Estate, comprises sixteen logistics parks with a total lease area of nearly 480,000 square meters located in the most important logistics regions in Poland, including Warsaw, Łódź, Kraków and Upper Silesia where Panattoni Park Ruda Śląska II is being built with a total leasable area of 57,000 square meters.
45,000 square meters will be provided to two tenants – LATEX Opony Inc and Dywidag. Latex Opony - one of the leaders in the tyre and rim distribution industry - moved into the facility as early as June this year and occupy 21,000 square meters in the first building being under construction. The new location will become the company's main warehouse in Silesia. The premises has been adequately secured and adapted to the storage of tyres - the building has been prepared for the fire load density, fire resistance has been increased, and additional sprinklers have been installed on the premises. Another tenant is Dywidag, which by the end of the year will have occupied the entire second building in the park with an area of 24,000 square meters, where it will produce geotechnical systems, compression systems. The office and social part will occupy as much as 1,400 square meters. Production will be carried out on an area of 22,500 square meters, which Panattoni will prepare for demanding technological processes and specialized workstations. The projects for both tenants will meet the requirements of BREEAM certification at the Very Good level.
Panattoni Park Ruda Śląska II comprises two Class A warehouse buildings with 57,000 sqm of space, meeting the needs of clients from various industries. The facility offers flexible conditions for shaping warehouse and office modules according to individual needs. The surface of the facility can be used for both storage and light production. The park is equipped with comfortable manoeuvring areas, zero gates and LED lighting.