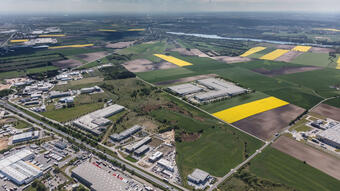 In Q3, of the previous year, the Poznań region with 300,000 sqm found itself among the top three most attractive markets in Poland by demand for industrial space. An example of the interest logistics companies show in the Wielkopolska market would be Panattoni Park Poznań West Gate in Tarnów Podgórny, where space is leased by two international operators. One of these is DFDS, for whom the developer has supplied a through-flow warehouse with an area of 10,500 sqm and a net storage height of 12m. DFDS specialises in comprehensive logistics and transport solutions via road, rail and sea. It has terminals in many European countries including Sweden, the Netherlands and the UK. The Tarnów Podgórny project is the company's first large space warehouse development in Poland.
"The experience we have acquired through developing numerous projects for the logistics industry – including both bespoke solutions and projects within our industrial parks – is once again paying back dividends. DFDS has come to us for the first time and straight away it is with a project of strategic importance for its presence in the region. By choosing us, the operator not only gains an individual approach with the highest quality space, but also a superb location with huge prospects for further development as well as for finding new clients," says Przemysław Musiał, Senior Leasing Manager at Panattoni.
Panattoni Park West Gate is located 15 minutes from the A2 motorway, which gives it easy access to such cities as Warsaw, Łódź and Berlin. The complex has been built next to National Road 92, 7 km from the Poznań Zachód junction, where the DK 92 with the S11 expressway, a road that will eventually connect to Koszalin and Bydgoszcz in the north and Katowice in the south.
Panattoni Park Poznań West Gate is a two-building complex with a planned build-out area of 61,000 sqm, of which around 58,000 sqm has already been leased. The project has been developed in a sustainable manner, attested to by a BREEAM certificate with a rating of 'Excellent'.
Source:property-forum.eu