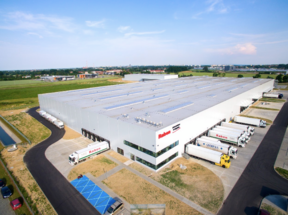 Warsaw, February 4th 2021 - CTP, a top 5 European industrial developer with a portfolio of 6.3 million m2, expands its CTPark network in Poland to satisfy the high demand for logistics properties in the region.
"Poland is not only the largest economy in CEE; its strategic location and proximity to Germany also make it a logistics hotspot," explains Remon Vos, CEO of CTP. "As we start construction in Warsaw and Katovice, we keep exploring other locations in Poland to build hi-tech, sustainable parks for our 700 clients. The demand we are seeing for logistics and industrial property in the Warsaw area and other large Polish cities is immense."
CTP partnered with MDC², a logistics developer with offices in Warsaw and Katowice, for the deal announced today in Poland. Hadley Dean, founder of MDC², said: "Poland is the second fastest growing logistics market in Europe and we are delighted to play a meaningful part in CTP's expansion activities." MDC² is a team of sen-ior property experts that have developed over three million m2 of logistics parks in the last 15 years.
CTP is active across seven markets in Central and Eastern Europe with operations in the Czech Republic, Slo-vakia, Romania, Serbia, Hungary, Bulgaria and Poland. With the portfolio of 6,3 million m2 and 700 thousand m2 under construction, CTP is on track to pass 10 million m2 of total lettable area by 2023. CTP is the first in-dustrial developer in the region to have its entire portfolio BREEAM certified.
About CTP Group
CTP Group is a commercial real estate owner, developer and manager providing complete services in the lo-gistics real estate sector. The Group specialises in the construction, ownership and management of customer-oriented high-tech business/logistics parks for leading international and domestic companies that are strategi-cally investing in new or expanded projects. CTP Group is the largest full-service owner-developer of prime industrial and logistics property in Central and Eastern Europe (CEE). The Group's core portfolio consists of
6 million m2 of Class A real estate in over 100 strategic locations in seven CEE countries: the Czech Republic, Slovakia, Hungary, Serbia, Romania, Bulgaria and Poland. As part of its long-term commitment to building and owning the most efficient and sustainable assets, CTP already has 100% of its logistics/industrial portfolio BREEAM certified ("Very Good" or "Excellent") and plans to be carbon neutral in its operations by end-2021.
About MDC²
MDC² is a Polish-based logistics and warehouse developer and manager. The company was established in 2021 by seasoned commercial property professionals: Hadley Dean, Jeremy Cordery, Peter Love and their teams have developed over 3 million m2 of warehouse space over the last 15 years. The company develops, markets and manages sustainable logistics buildings in Poland, the second fastest growing logistics market in Europe. MDC² focuses on the Polish market, developing a single asset base with the use of its team's 20-year experience in the construction and marketing of logistics and warehouse projects. The joint venture with CTP Group allows MDC² to commence five new construction projects in Warsaw, Łódź, Zabrze, Opole and Iłowa in Q3 2021.