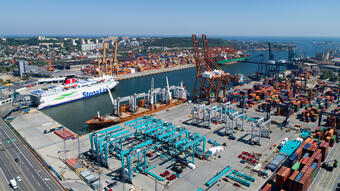 The contract signed on 31.10.2019 with Road Works Company MTM S.A. for more than 3.2 million gross includes: reconstruction of road connecting yard at warehouse W2 with asphalt road under E. Kwiatkowski flyover, with redevelopment of existing water, sewage and electricity installations.
The contract signed today fits into the vast investment plan PoGA has for this part of the port. "To remind you – at present we are holding construction works in this area of our port within projects: "Reconstruction and electrification of the railway system" and "Construction of technological route connecting Logistyczna and Kontenerowa streets". We are also closing the process of obtaining a building permit for the "Construction of intermodal terminal" and "Construction of manoeuvring and storage yards" on Logistic Centre area," explains Grzegorz Dyrmo, Vice president of the Port of Gdynia Authority S.A. "And last month, thanks to the great involvement and hard work of the team I lead – top level engineers – we put the new high-storage warehouse into service," he adds.

And this is how next to great investments, whose single cost of performing works is calculated in tens or even hundreds of millions PLN, the Port of Gdynia Authority completes numerous smaller, yet equally important tasks related to restoring appropriate technical condition and improving functionality of possessed estate.

"Here I would use the example of "Reconstruction of parking lot for route cars at Kontenerowa street, including underground utilities" and "Reconstruction of passenger car parking lot surface including underground utilities at 60 Kwiatkowskiego street", plus the construction mentioned above and performed by MTM," continues Vice President Dyrmo.

"One glance at our map shows that investments cover most of our areas in this part of the Port. One may conclude that we are completing two complementary investment plans. One is related to the development and increase of Port's cargo handling capacities, the other is revitalization and boosting functional properties of the existing assets," sums up Grzegorz Dyrmo.
Source: Port Gdynia