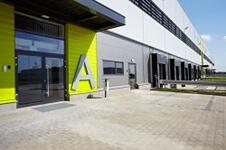 Johnson Health Tech has signed a 1,500 sq m plus lease at Gate One Business Park, a warehouse and office complex in Warsaw. Panattoni Europe conducted negotiations on behalf of the property owner while Urszula Rasmussen from global real estate services firm Cushman & Wakefield represented the tenant.
Johnson Health Tech is a leading fitness equipment manufacturer and the world's fastest-growing fitness brand. Its Matrix products are known for innovative technology, unique design and top quality. The brand has been active on the global market since 1975 with manufacturing facilities in Shanghai and Taiwan, and R&D centres in North America. It has received a number of international awards, including two prestigious Taiwan Excellence Awards for innovation. Johnson Health Tech has been present in Poland since 2013, offering comprehensive services from project planning through to purchase and financing support, and professional post-sale services.
Gate One Business Park is a modern A-class warehouse and office facility offering a total of 19,100 sq m, including 15,620 sq m of warehouse space. It boasts superb functionality and is located approximately 7 km from downtown Warsaw and 6 km from the Frederic Chopin International Airport, close to national road no. 8/the E67 European route (Białystok-Warsaw-Wrocław) and national road no. 7/the E77 European route (Gdansk-Warsaw-Krakow).
Panattoni Europe is responsible for the commercialisation and property management of Gate One Business Park.
Source: Cushman & Wakefield