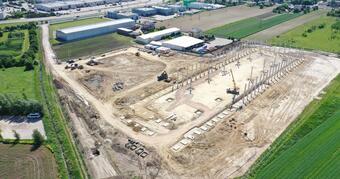 7R Park Warsaw West I comprises of two A-class buildings totalling of 16 500 GLA. Both facilities are designed to be used either as standard warehouse space or a light production.

- It is a great pleasure for us to be working with 7R again. We have already completed a few buildings together before in different locations around Poland. Thanks to our 20 years experience in delivering warehouses and logistic facilities we clearly understand the developer's expectations. We are certain this will be another successful project. – says Mariusz Górecki, President of Atlas Ward Polska.

What is so special about 7R Park Warsaw West I is the outstanding location within Warsaw city boundaries. It is located directly at Poznańska street, next to the biggest wholesale market in Poland and a retail park and only 19 km away from the city centre. There is a metro Mory station planned only two kilometres away from the park along with developing the line II of the whole metro network. Also, A2 motorway and S8 expressway, the two arterial roads, are in close vicinity from the park.

- Warsaw region is the largest industrial market in Poland and its' main advantage is easy access to human resources. The capital city attracts talented people and investors like investing where there are professionals available. 7R Park Warsaw West I's location with all road infrastructure and availability of public transport makes it easy to access for deliveries, customers and most of all employees travelling to the facilities every day. We appreciate the capital's city employment potential and the demand for more industrial facilities and that's why we already have further 7R's projects in the region in the pipeline. – adds Bartłomiej Krawiecki, 7R SA Board Member.

7R Park Warsaw West I is BREEAM certified. The developer is implementing such environmentally conscious solutions as LED light and radiant heaters.
The first building with GLA of 9 200 sqm has already been leased to one of the largest logistics companies in the country specialising in courier services.
Source: 7R Logistics