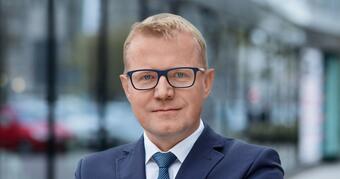 W ciągu minionych dwóch lat 7R kilkukrotnie zwiększyło ilość realizowanych obiektów, a liczba podpisanych w tym czasie umów najmu przekroczyła 500 000 mkw. Obecnie na różnych etapach procesu inwestycyjnego jest aż 700 000 mkw. Chcąc w dalszym ciągu zapewniać klientom najwyższą jakość usług koniecznie jest powiększenie zespołu.
,,Od zawsze naszym znakiem rozpoznawczym jest najwyższa jakość projektów oraz dbałość o relacje z klientami. Aby móc nadal zapewniać naszym partnerom szybką obsługę i bezpośredni kontakt z nami, w ciągu ostatnich kwartałów znacząco zwiększyliśmy zatrudnienie w dziale leasingu. Teraz w tych działaniach wesprze nas również Aleksander Kuźniewski. Jestem przekonany, że świetnie sprawdzi się on w nowej roli i będzie doskonałym uzupełnieniem zespołu", mówi Maciej Krawiecki, Head of Leasing 7R SA.
Aleksander Kuźniewski ma ponad dwunastoletnie doświadczenie na rynku nieruchomości komercyjnych. Przed dołączeniem do 7R przez 9 lat pracował w CBRE, gdzie w ostatnim czasie pełnił rolę dyrektora w Dziale Powierzchni Przemysłowych i Magazynowych. Wcześniej doświadczenie zawodowe zdobywał m.in. w firmach z branży nieruchomości komercyjnych: DTZ oraz King Sturge, jak również transportowo-logistycznej firmie VOS Logistics.
Kuźniewski jest absolwentem Wydziału Zarządzania Uniwersytetu Ekonomicznego w Poznaniu oraz studiów podyplomowych z zakresu Pośrednictwa Nieruchomościami w Szkole Głównej Handlowej w Warszawie. Posiada również międzynarodowy tytuł CCIM (Dyplomowanego Specjalisty Komercyjnych Inwestycji na Rynku Nieruchomości).
W 7R będzie odpowiadał za projekty realizowane w formule multi-tenant oraz w ramach sieci 7R City Flex Last Mile Logistics w Polsce północnej, Wielkopolsce oraz na Dolnym Śląsku. Na czele Działu Leasingu pozostaje Maciej Krawiecki który awansował na stanowisko Head of Leasing i będzie sprawował pieczę nad całością działań związanych z wynajmem powierzchni zarówno w projektach spekulacyjnych, jak i obiektach BTS.
,,7R zdołałem poznać jako dynamicznie rozwijającego się dewelopera, który w ostatnich latach sukcesywnie budując swoje portfolio stał się jednym z głównych inwestorów na rodzimym rynku. Bardzo się cieszę, że mogę stać się częścią zespołu, który stoi za tym sukcesem i liczę, że moje dotychczasowe doświadczenie będzie również cenne dla firmy", mówi Aleksander Kuźniewski, Leasing Director 7R SA.
Source: 7R Logistics